In Part 1 I explained how I was using "How to Publish your own eBook" as a guide to creating my first ebook, The Star Coin Prophecy. Part three of the guidebook deals with how to create an epub or mobi file from prepared content, which can be used on an ebook reader.
If you read Part 1.5 you will notice that it has missed out a vital step here, or more precisely it has added an unnecessary step. I found out, having already created my epub file, that most places don't want finished files, they want precisely formatted Word documents. Smashwords won't accept any other format. Kobo Writing Life and Amazon Kindle Direct will accept epub, but recommend Word.
So, the good news, if you're feeling very daunted by the idea of having to make your own file, is that you don't have to! You will however, need to follow the style guides set out by the service you're using and try not to be too upset if it doesn't turn out exactly how you want it; the converted epub file that Smashwords' "Meatgrinder" produced from my word document worked poorly on my Kobo.
Meanwhile, Amazon Kindle Direct made an excellent job of converting my epub to Kindle format, and Kobo Writing Life forever endeared themselves to me by letting me actually use my own epub file. In Part 3 I'll be talking about these different services in more detail.
So, having established that creating an ebup is not necessary, here's how I did it anyway…
Creating an epub – the basics
"How to Publish your own eBook" offers guidance on a number of systems you can use:
Alongside these choices, the guide suggests the use of free download program Calibre for performing conversions between formats. I will get onto that later.
As Sigil is free to download, if it could do all the things I needed it to do, it seemed the obvious choice, so that was where I started.
"How to publish your own eBook" started to lose me at this point. I downloaded and installed Sigil and began to follow the step by step instructions in the guide, but found they didn't always match up to the program. For instance, when inserting the cover, the guide book skipped over a necessary step of adding the file to the project before trying to insert it into a page. Luckily, it seems the developers of Sigil have put a lot of effort into making their program user friendly. I followed the guide through, but since it didn't deal with any of the more advanced features, I soon discarded it in favour of Sigil's online user manual.
Getting it right
Now, when I say user friendly, I only extend that description to the basics. Once you get to the point of troubleshooting it gets a bit more complicated. And, having followed the basic steps I had a fair amount of that to do.
If you don't know much about how ebooks work (which I didn't before I started) they use XHTML and CSS to organise the component parts and tell the ereader how to show the contents. Out the box as it were, the epub created by Sigil, using my exported content from Word, had a few issues. The margins were set up wrong, page breaks were happening in the wrong places and the cover wasn't scaling.
Whether other programs for ebook authoring enable a less hands on approach to the coding, I don't know, but I wouldn't recommend Sigil to anyone who doesn't have at least some experience with web coding. If you want to create a professional looking ebook with it, you'd better have a decent understanding of HTML and more importantly CSS. Luckily I do, and have a tech guru on hand to help me when I get stuck.
Support
There is a disappointing lack of straightforward, detailed advice and guidance on ebook production on the web. Once you get past the basics, guidance is disparate and patchy.
In trying to figure out how to scale the cover image, I found my way to the Mobile Read forums which has dedicated boards for Sigil and other ebook publishing software. There a quick search turned up a quick fix. This is a great place to start when you're tackling an issue.
However, some of the advice on the forum did turn out to be overcomplicated. I turned up some simpler solutions myself by importing and dissecting some existing ebooks. In hind sight, I should have tried this first, as it really helped me get an idea of what I was trying to achieve.
The W3Schools website is the bible on all things web code related. I can't recommend this highly enough as a resource for learning to HTML and CSS.
Converting to Mobi for Amazon
Amazon accept Mobi files for upload, which is the closest file type to the Kindle's native format and it seemed logical to me that this would be the best thing to hand their converter. However, I didn't have a Mobi file, I had an epub. Both the guide book and a lot of people on the internet pointed me to the same piece of free software for conversion; Calibre.
Calibre is a cross platform ebook organiser which allows you to manage and convert ebooks from multiple sources and sync them with your device.
I ran my epub through the converter. The output was not pretty. Result – not impressed, especially since Amazon did a better job itself when I fed it the epub file directly! I imagine that Calibre is excellent for managing ebooks, but I would not rely on it as a tool for publishing. However I stress that I have yet to test how it fares in reverse, converting a kindle book to epub for use on a device that isn't a Kindle.
Hints and Tips
So what lessons have I learned that I can pass on? Here are ten points to consider.
Read the advice from the services you are looking to list your book with first. If you're happy submitting a Word document, do that.
If you do decide to try out Sigil or another editor to make your own epub, start by reverse engineering some existing books to get an idea of how they work.
Try not to rely on Word to export your work with the required html; it's inelegant and might be more difficult to fix that adding your own code from scratch.
Note that some CSS which works in common browsers may not be supported by ereaders. Try to stick to the widely supported basics.
The @page tag is your friend, learn how to use it.
Test, test, test! A copy of Adobe digital Editions makes it easy to check each iteration of your file for major issues, but it's also worth trying it on your device for bugs.
Give each iteration a different file name to ensure your device treats it as a new item. The Kobo for instance won't update the thumbnail unless you change the file name. And besides, keeping copies of your iterations is good practice anyway.
Research the size requirements for your cover image before you start designing it. Smashwords now requires cover images at 1400 pixels in width or higher and other retailers have even higher specs.  This is especially important if, like me, you are paying to licence the images you use.
The Kindle format does not support images with transparencies. So avoid PNG files with transparent backgrounds; they display as black blocks.
The simpler your design, the less work you'll have to do. Consider keeping the number of fonts (especially embedded fonts), paragraph styles, links and so on to an elegant minimum. In my opinion, less is sometimes more.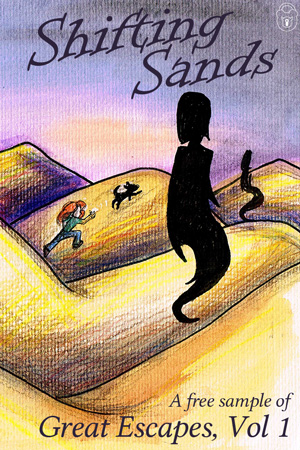 If you'd like to take a look at the ebooks I've produced, you can download samples of The Star Coin Prophecy from the various retailers (you can find links to each on the book's page).
You can also download a free short story in epub format, a sample from upcoming anthology Great Escapes | Volume 1, from The Great Eascape.
In part 3, I'll be looking at the options for distribution and giving a final verdict on "How to publish your own ebook".