RELEASE DATE – April 2nd 2020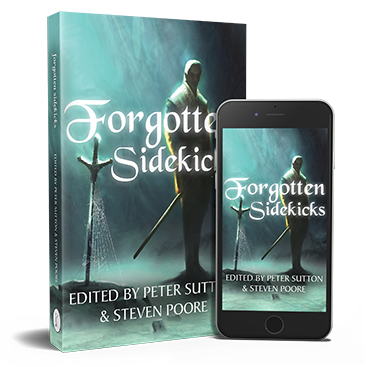 We all know what happens when the hero saves the day, but what about their sidekicks?
Too often the hero is held high and celebrated whilst their sidekicks and comrades are brushed to the side; their own battles forgotten, and their actions airbrushed to nothingness from the tales of victory.
These are the stories of the ones who aren't remembered; the ones who helped save the day, and got cast aside; the ones who don't want the applause, and the ones who deserved the applause and never received it.
These stories didn't make the headlines – but they happened, and they're glorious.
Chrissey's Story Henchman follows ex army security guard Jack Canning on the worst night of his new job working at Dante Industrial. Is he… is he one of the bad guys?
Available to Pre-Order from Amazon
---
What The Reviews Say
The Sci-Fi and Fantasy Reviewer
ON THE ANTHOLOGY:
Editors Peter Sutton and Steven Poore have brought together a group of supremely talented authors to create a collection of masterfully told, highly imaginative and often thought-provoking short stories about those who fight in the shadows of their (alleged) betters. By turns comic, tragic and action-packed, the tales featured in Forgotten Sidekicks shed new light on the roles played by sidekicks, forging a collection that deserves to be read widely and often.

— The Sci-Fi and Fantasy Reviewer
ON HENCHMAN:
There's an intriguing blend of gritty realism and Silver Age superhero antics that works far better than it realistically should, which is testament to Harrison's obvious skill as a writer, and I enjoyed the subtle take-down of various supervillain tropes as the story progressed to a climactic ending.

— The Sci-Fi and Fantasy Reviewer
Read the full review – Forgotten Sidekicks – Peter Sutton & Steven Poore (Eds.) – Review