There's a supernatural serial killer on the loose…
Elliot Cross didn't believe in monsters. At least, not until his brother died at the hands of something unnatural.
Four years later and a string of impossible deaths leave the police baffled. Consumed by a desire to shine a journalistic light on the supernatural world, Elliot sees a chance to make a difference. Enlisting the help of his (only) employee, Samantha, he quickly identifies the culprit – a demonic mime artist whose invisible creations are fatally real.
Way out of his depth, Elliot's only hope is renowned demon hunter Gabriel Cushing. But tracking down Gabriel is only the beginning… The search for a way to end the demon forever will take Elliot and Sam across the country, uncovering lost history, buried secrets, and a few new truths about themselves.
---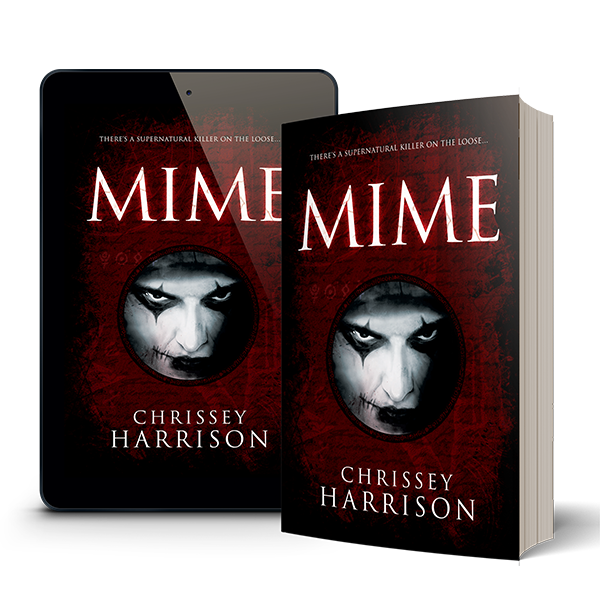 Book one in the Weird News series, MIME, follows Elliot Cross, editor and journalist, and his colleague Samantha McBride as they delve into a dark world of demons and magic.
Publisher: Matador
ISBN: 9781838593605
Format: UK B Trade Paperback
Mime was recently funded on Kickstarter – Find out more about the campaign.
Read what reviewers said in the book launch blog tour.
Now available direct or from your local bookshop or online retailer.
---
Chapter 1
Oily and bitter, the lingering odour of burnt flesh lodged in the back of Elliot's throat. If he hadn't known where the smell came from, he might not have thought anything of it.
Fifteen minutes had passed since the first reports had hit social media. Ten minutes since "spontaneous combustion" had started trending and flagged up on Elliot's searches. Mostly third-hand accounts, but he'd found enough supposed eyewitnesses to convince him it was worth investigating.
Seven minutes since he'd left the Weird News office to drive down Whiteladies Road and across the city centre to the scene. Now, as he approached the waterside edge of Castle Park, that hint of charred human on the breeze made the whole situation more real. He pressed his lips together, swallowed, and headed closer.
A couple of patrol cars were parked on the roadside, alongside a grey Ford Mondeo he suspected was an unmarked police vehicle from the radio equipment visible on the dashboard. Rows of curious people gathered behind railings strung with blue-and-white striped tape. Some held phones above their heads like digital periscopes, trying to glimpse the focus of all the activity before the daylight faded. People loved a morbid circus.
Elliot pushed closer to the front. | Read more...
---
For updates about more titles in the Weird News series, including exclusive bonus content, advanced previews and subscriber discounts, join my newsletter group now.