Following the launch of Mime last week, I'm excited to announce a new release blog tour starting Sunday 2nd August.
Organised by the wonderful Anne Cater at Random Things Tours, the blog tour features blog spots and reviews from 13 book blogger over two weeks.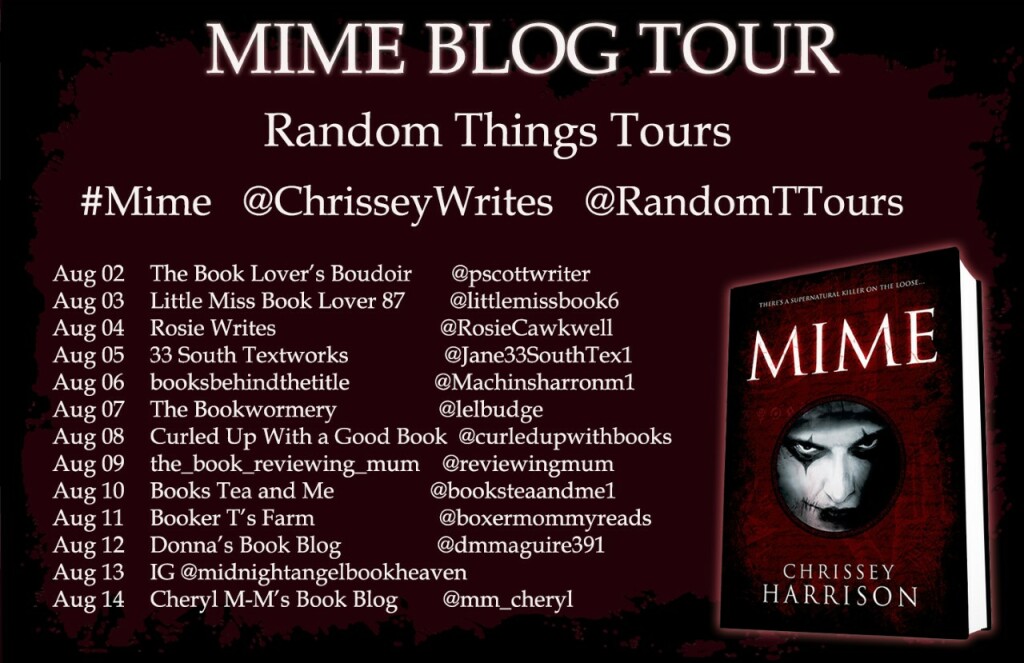 I'm super excited to share each stop on the tour as we go along so check out the links below! Follow me on Facebook or Twitter if you'd like to follow along too.
A massive thank you to all the bloggers taking part. As a debut novelist, it can be difficult to get the word out about your new book and events like mean so much. It's also a nerve racking time, waiting for the first reviews to come in, and doing a tour like this has helped me know what to expect.
Author Interviews
Before we kick off the tour, I've recently had the chance to feature in a couple of debut author interviews.
On Shaz's Book Blog I talk about my writing process, influences, and upcoming projects.
And with The Caffeinated Reader I join blogger Haley to chat about my characters, aspirations, and how 2020 has impacted me.
I hope you'll check both interview out and explore more of the bloggers' reviews and interviews.
Blog Tour
First up, @pscottwriter with a short and sweet review: https://thebookloversboudoir.wordpress.com/2020/08/02/mime-by-chrisseywrites/…
★★★★★ It's a fantastic read. The book reminds me a lot of The Dresden Files or Alone in the Dark.

– Pamela Scott, book reviewer
---
Second stop on the tour, @Littlemissbook6 with a glowing review! https://booklover.water.blog/2020/08/03/2436/…
★★★★★ Harrison has pulled me in very early on and the story has flowed beautifully. I have been completely addicted to this read.

– @LittleMissBook6
---
Day three on the tour takes us to the @RosieCawkwell's blog for a lovely and detailed review. https://rosemariecawkwell.wordpress.com/2020/08/04/review-mime-by-chrissey-harrison/
★★★★✰ A solid work of supernatural fiction that uses many of the tropes we have come to know and love, with enjoyable characters and a twisty plot.

Rosie Cawkwell, book reviewer
Another fantastic review for day four of the tour! This time we're at 33 South Textworks with blogger Jane. https://www.33southtextworks.com/book-review-mime-by-chrissey-harrison/
★★★★★ Chrissey Harrison presents us with engaging characters with depth and backstories, a devilish antagonist who kills with malevolent glee, and a plot that twists delightfully.

Jane Turner, book reviewer
---
It's Day 5 and today we're visiting @MachinSharronm1 for a solid review that does a lovely job of highlighting the book's features.
https://booksbehindthetitle.wordpress.com/2020/08/06/blogtour-mime-annecater-chrisseywrites-randomttours/…
★★★★✰ "A bewitching tale of demons and supernatural goings on that will cast a spell over you till the book is finished."

Sharron M, book reviewer
---
For day 6 we're stopping off at The Book Wormery for a short and sweet review from blogger Lesley Budge.
https://orlando-books.blog/2020/08/07/mime-by-chrissey-harrison-book-review/
★★★★✰ …gripping from start to finish, with creepy gruesome deaths, demons and a portal to Hell, this really is a goosebumpy read.

Lesley Budge, book reviewer
---
I was absolutely blown away by this amazing review from @Curlupwithbooks for day 7 of the tour!
https://curledupwithagoodbook.co.uk/blog-tour-review-mime-by-chrissey-harrison-chrisseywrites-randomttours-mime/…
★★★★★ I was engrossed all the way through and didn't want to put it down…..still wanting more when I came to the end!

Chelle, book reviewer
---
Next up is this fabulous review from The Book Reviewing Mum for day 8 of the tour.
https://thebookreviewingmum.wordpress.com/2020/08/09/blog-tour-review-mime-by-chrissey-harrison-chrisseywrites-randomttours-blogtour-bookreview/
★★★★★ Over all an explosive beginning, a slower paced build up which SUDDENLY leads to an exciting fast paced chase against the clock!

The Book Reviewing Mum, book reviewer
---
For day 9 of the tour we visited @booksteaandme1 for a review full of interesting reflections.
https://booksteaandme.blog/2020/08/10/im-delighted-to-be-a-part-of-the-blogtour-for-mime-by-chrisseywrites-with-thanks-to-anne-randomttours-readers-newbook-bookchat/…
RECOMMENDED! Mime is one of those books that's pure escapism, and fun to read.

books.tea.and.me, book reviewer
---
On Day 10 of the tour, we visit @boxermommyreads for a five "paw print" review.
https://bookertsfarm.blogspot.com/2020/08/random-things-tours-mime-by-chrissey.html…
★★★★★ "This book has it all. Action, excitement, demons, complex characters, and intriguing backstory and even a hint of romance."

Barb Briggs, book reviewer
---
On day 12 of the tour, we took a trip over to Instagram for a review by @midnightangel16
https://instagram.com/p/CDvij4Egk73/
★★★★★ The style of writing flowed well and the plot kept me gripped throughout.

Helen, book reviewer
---
We round out the tour with a final visit to @mm_cheryl for this review… https://mmcheryl.wordpress.com/2020/08/14/blogtour-mime-by-chrissey-harrison/…
"A little wit and a pinch of horror, which goes well with psych thriller and killer vibe."