Having returned safely home and caught my breath, I thought I should share my experience of Fantasy Con 2021.
It started with a noob "mistake", in that, not knowing what time everything starts on the Friday, I booked the Thursday night in my hotel to make sure I could be there bright and early. This probably turned out to be a good thing as I missed my coach, and… well, I was less likely to mess everything up with an extra day to spare. It meant I was well rested when I moseyed over to the Jury's Inn Friday afternoon and collected my pass.
FRIDAY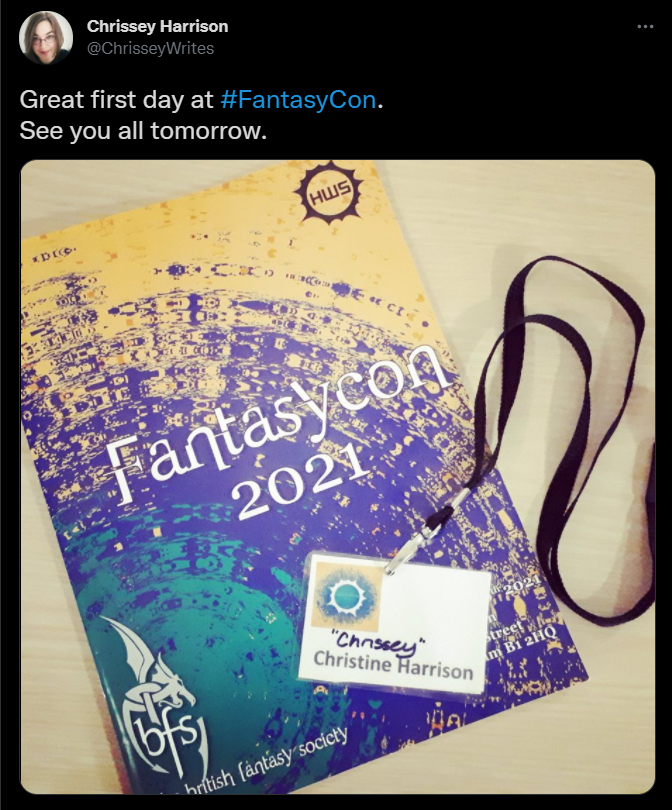 3:30pm New to FantasyCon – The organisers very sensibly included a session for all of us noobs, which gave me a chance to ask my noob questions. I met some other first timers and had a nice chat in the bar before my first panel.
5:00pm Genre Splicing – with Allen Stroud, Andrew Hook, Cheryl Morgan and Juliet E. McKenna. The excellent debate can be summed up as; genre splicing is so common it is basically synonymous with writing. In fact, avoid it at your peril, because any idea that is a pure incarnation of a genre is doomed to ignominy.
8:00pm Representing Gender – Heide Goody, Tej Turner, Cheryl Morgan and Adeline… (sorry I can't remember their surname)… talked very candidly and openly about their connection with gender and gender representation. The advice can be summed up as "do your research and don't make a character's gender their entire character", but the panel made a much bigger impact on me than just that.
9:00pm World Horror – This was a much less definitive panel. The participants (Laura Mauro, Jim McLeod, Peter Mark May, Matt Shaw and one other whose name escapes me) were the first to acknowledge that five white Anglophones were not the best people to have this discussion. But with that in mind, they did an admirable job of discussing how a white Anglophone reader might go about broadening their horizons, and focused on how comparing Western remakes of films and tv shows to their originals can teach us a lot about differing perspectives. Laura Mauro gave some excellent case studies of Japanese child hauntings and toilet ghosts.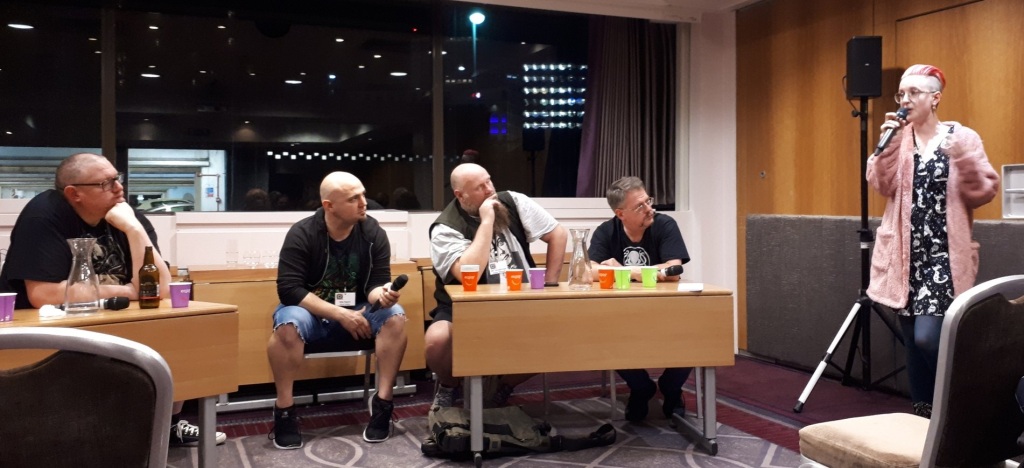 All in all, Friday was a nice, easy introduction. I shared some meals with friends old and new, gave myself some time to decompress, and ended the day excited for Saturday.
SATURDAY
From making notes for my panel over breakfast at 8:15 to getting kicked out of the hotel by security at 00:15, Saturday was a looong day. Here's all that I got up to, in brief.
9:00 Fairytales and Folklore – Panelists Anna Smith Spark, Teika Bellamy, Charlotte Bond and Lucy Hounsom discussed the rich inspirational potential and the political gravity of folklore and fairytales. My takeaway from this panel was that we as readers and writers must try to consider these classic tales from multiple angles or through multiple lenses, to understand what meanings they contain for different people, and to recognise what filters they have passed through in the past before they have reached us.
10:30 Neurodivergency – Panelists David Hartley, Emily InkPen, Jonathan Walker and Rachel Emma Shaw presented a broad and insightful discussion on the representation of neurodivergency in fiction. I took a lot of notes, particularly on book recommendations. It got me thinking about lesser recognised forms of neurodivergency, such as addiction and trauma induced thought patterns. The number one takeaway was to seek out own voices fiction and examples of representation recommended by the neurodivergent community.
12:00 Unsung Stories book launch – I caught some readings from new titles Out of the Darkness (which I backed on Kickstarter) and Gigantic (which will definitely go on my TBR).
Over lunch I caught up with the panellists for my panel later that afternoon and decompressed alone while making some more notes on our subject.
2:30 Medieval Books – Book conservator Jess Hyslop gave an excellent talk on Medieval manuscripts – the materials, construction, storage and deterioration of books made between the 5th and 14th Centuries. I'm very tempted to ask if she'd like to team up and offer a bookbinding workshop at a future event.
4:00 The Art of Fantasy and Horror – I joined fellow panellists Jenni Coutts, Duncan Bradshaw and Stephen Jones for a discussion on the Art of Fantasy and Horror. The panel went a little off topic, but I think the audience still found our insights into book cover design, illustrators in the publishing industry and the changes through time interesting.
6:00 No, Seriously, We *Have* Always Fought – Farah Mendleson, Lorraine Wilson and Cheryl Morgan discussed the challenge of educating new readers on what has come before. This was a fascinating topic, focusing on the history of genre fiction and the past examples of radical ideas and forward thinking that new readers may not be aware of. Definitely opened my eyes.
7:00 Readings – Tej Turner, Pete Sutton and Gary Couzens.
8:00 The Horror, the Weird, the Supernatural – Graeme Reynolds, Pauline Kirk. Simon Clark and Jason Whittle got into the nitty gritty of how we define these particular sub genres of horror, with a focus on the differing perspectives and tone of each.
9:00 The Street – Panellists David Green, Angeline Trevena and Russel Smith discussed the tropes and attraction of Urban Fantasy, focusing on their contributions to the genre and the meaning it held for them. I felt right at home!
10:00 Tales in the Dark – The absolute highlight of my weekend was joining fellow horror writers Kit Power, CC Adams, Laura Mauro, David Watkins, Phil Sloman and Charlotte Bond to read short stories and extracts from our books to a room of shadowy figures. With the exception of getting a stern look from the security guard when we ran past midnight, the event went spectacularly. As David has since commented; all readings should be done in the dark! If I was forced to pick just one, Laura's Ningen, a tale of deep sea divers encountering an abyssal horror, was my favourite.
SUNDAY
With the late night on Saturday I struggled to get going Sunday morning.
11:00am Readings – Marian Womack, Laura Mauro and Lucie McKnight Hardy – some dark themes for such an early slot!
12:00pm Representing Disability – Allen Stroud, David Hartely and Kevin Elliot talked in detail about the problematic assumptions and pitfalls in genre fiction, from sci-fi assuming all disabilities will be "fixed" with futuristic medical intervention, to fantasy avoiding representation out of laziness. Allen and I got into a brief chat about the particular case of glasses for video game avatars, which has inspired me to write a whole blog post on that subject. The takeaway; be the change you want to see in the wider industry, do your research, and avoid tokenism.
After a lovely lunch with a couple of friends, I was looking forward to the Awards Ceremony but unfortunately I had to retire early due to a migraine. But not to worry, the whole thing was live streamed…
So that's if for this year. It was definitely taxing to be around so many people, interacting and trying to figure out how we used to do all this socialising in the pre-plague times. I had difficulty recognising people I'd known for years behind their masks. My body ultimately decided it was too much peopling (see migraine), so I hope I can pace myself better going forward. I'm now looking ahead to the return of BristolCon at the end of October, and of course, next year's FantasyCon in London.