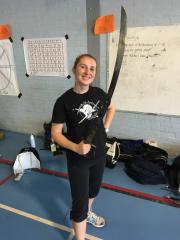 Emergent author Chloe Headdon is working on her first novel while debuting as a short story writer. She is a member of North Bristol Writers and has a room in her home she refers to as "The Armoury" where she keeps her fencing, Historical European Martial Arts (HEMA) and reenactment gear.
What was your goal and reason for attending?
I really liked the idea of spending an entire weekend surrounded by wonderful writers, as everyone knows writing can be very isolating.
I was also hoping to get some advice on the hugely daunting task of restructuring and editing my young adult fantasy novel – I knew there were some problems with plot and pacing (and perhaps a rogue character or two!), but knowing something and coming up with a method to fix it are two very different things.
Finally, who can resist a beautiful cottage on the edge of the Brecon Beacons? AND close to the amazing Carreg Cennen castle?!
Did the retreat helped you reach your goal and how?
Jo and Roz suggested I write a reverse outline of my book, which has helped me get a sense of the draft as a whole (I started writing it over 3 years ago) and identify where some of the issues are.
They also gave me some of the best advice I've ever heard, almost as though they looked inside my head and predicted where I might go wrong: get the novel working before you worry about fine-tuning the prose. Good, eh? I know I have a habit of fussing with sentences when I really should be looking at the bigger picture, so it was just the kind of pep talk I needed.
Having said that, they also gave me detailed feedback on my first two chapters, including some comments about my prose itself, so I'm now armed with that advice for when I am able to worry about the nitty-gritty stuff.
What did you like best about the retreat in general, or what was your favourite moment?
Where to start? Excellent company and conversation from my fellow writers, dogs to pet, chickens to hold and ducks to herd, ponies running across the hailstone-swept Welsh hills, the castle (did I mention the castle?!), yummy vegan food, copious amounts of tea, lots of laughter, ALL the cake, a hot tub … oh yeah and I guess having time to focus on my writing was sort-of-OK!
But seriously, it's been a long time since I felt I had the headspace to actually sit and focus on my book for more than an hour at the time (despite all the fun distractions mentioned above). I was utterly contented just sitting at the long dining table with lots of other writers tapping quietly away into their laptops, and occasionally pausing to make a brew and offer around a plate of biscuits. Modern life constantly pulls you in a thousand different directions, and it can be difficult to make time to do the things you love. For me the retreat really did feel like a retreat, and to spend that very precious time with other people who share the same passions as me was a privilege.
We also had a conversation about 'battle quail' in tiny helmets. Because we're serious authors.