Earlier this year, having been unscrupulously recruited into producing a story for their second anthology "The Dark Half of the Year", I moved from the tentative fringe to being a fully fledged member of North Bristol Writers. It's a very dynamic and proactive group; rather than simply focusing on writing development we run events and publish books, giving the members the chance at real exposure.
"Tales From The Graveyard"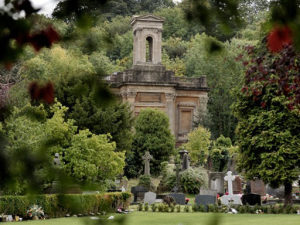 Thursday 19th October – 19:00-21:30
Tickets – £8 (click to book your place)
This October we're running an event at Arnos Vale Cemetery, as part of Bristol Festival of Literature. The audience will get to tour round the creepy cemetery after dark and listen to our tales of the weird and macabre.
Following last year's sell-out event, North Bristol Writers have prepared all new stories inspired by the cemetery setting. Previously they have performed at Sanctum, FarmFest and lots of other events across Bristol. Members of the group have been widely published and received honourable mentions in Best New Horror as well as being nominated for the British Fantasy Awards and the Peacemaker Awards. (Arnos Vale Event's Page)
What's more we'll be recording the event live to produce an audio book to accompany the next anthology due out next year. The anthology will combine the shorter stories from the event with longer short stories from the wider North Bristol Writers' network.
You'll also be able to catch us at the festivals' popular Flash Slam on Friday 20th October, and the Tangent Book Fair on Saturday 21st October.
For a full list of Bristol Festival of Literature events, visit unputdownable.org.
See you there!